Alopecia Areata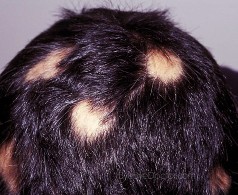 Alopecia areata is an acquired skin disease that can affect all hair-bearing skin and is characterized by localized areas of non-scarring hair loss. Alopecia areata, as a rule, is rarely associated with any other external or internal medical problems. Current evidence suggests that alopecia areata is
caused by an abnormality in the immune system. This particular abnormality leads to autoimmunity, a misguided immune system that tends to attack its own body. As a result, the immune system attacks particular tissues of the body. In alopecia areata, for unknown reasons, the body's own immune system attacks the hair follicles and disrupts normal hair formation. Alopecia is the medical term for baldness; there are various types of alopecia, including alopecia areata.
When this happens, the person's hair begins to fall out, often in clumps the size and shape of a quarter. The extent of the hair loss varies; in some cases, it is only in a few spots. In others, the hair loss can be greater.
Alopecia areata cannot be cured; however, it can be treated and hair can grow back.Treatment options for alopecia areata include:
Corticosteroids: Corticosteroids can be given as an injection into the scalp or other areas, orally (as a pill), or applied topically (rubbed into the skin) as an ointment, cream, or foam. Response to therapy may be gradual.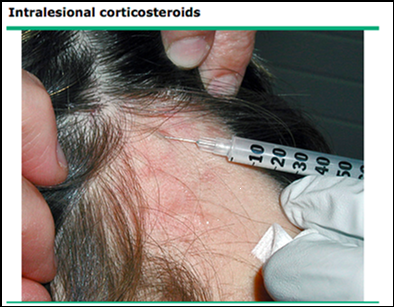 Topical contact allergens or sensitizers: This type of therapy may be used if the hair loss is widespread or if it recurs. The inflammation that the treatments cause may promote hair regrowth. Another name for this treatment is topical immunotherapy.
Rogaine (minoxidil): This topical drug is already used as a treatment for male pattern baldness. It usually takes about 12 weeks of treatment with Rogaine before hair begins to grow. Results can be disappointing. Other drugs that are used for alopecia areata with varying degrees of effectiveness include medications used to treat psoriasis and other autoimmune disorder.