Chemical Peeling
What is a chemical peel?
A chemical peel involves the application of toxic chemical solutions to the skin in a controlled manner, producing controlled tissue death.  After the peel, the skin regenerates. The damaged skin likely regenerates through the growth of cells from deeper layers of the epidermis or from undamaged hair follicles. The new, regenerated skin is usually smoother and less wrinkled than the old skin. The new skin is also temporarily more sensitive to the sun.
The skin is thoroughly cleansed with an agent that removes excess oils and the eyes and hair are protected. One or more chemical solutions are applied to small areas on the skin.
Reduce fine lines under the eyes and around the mouth
Treat wrinkles caused by sun damage and aging
Improve the appearance of mild scars
Treat certain types of acne
Reduce age spots, freckles, and dark patches (melasma) due to pregnancy or taking birth control pills
Improve the look and feel of skin.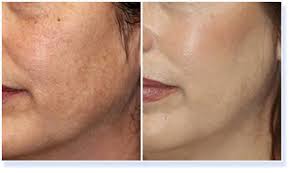 After the chemical peel, it's important to use a broad-spectrum sunscreen every day.