Microdermabrasion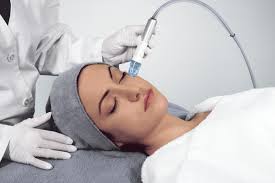 Microdermabrasion is one of the more recent skin-care techniques to have crossed over from Hollywood to the mainstream. Microdermabrasion is a general term for the application of tiny rough grains to buff away the surface layer of skin,advanced as an "instant facelift" .The purpose of surgical dermabrasion is to help diminish the appearance of deeper scars and skin imperfections.
Microdermabrasion is a light cosmetic procedure that uses a mechanical medium for exfoliation to gently remove the outermost layer of dead skin cells from the epidermis. Most commonly, microdermabrasion uses two parts: an exfoliating material like crystals or diamond flakes and a machine based suction to gently lift up the skin during exfoliation
Microdermabrasion may be performed to help diminish the appearance of superficial hyperpigmentation, and photo-damage, as well as diminish fine lines, wrinkles, acne, and shallow acne scar.
Micro-dermabrasion works in two ways:
Correction: The speed of the crystal flow causes an abrasive action that gently removes the surface layers of the skin, allowing smoother, fresher skin to emerge.
Stimulation: The vacuum action helps to stimulate microcirculation, increasing the blood supply that provides nutrients needed for skin regeneration. It also stimulates formation of new collagen and elastin to improve skin texture and elasticity.
The powerful peeling action triggers the skin's repair mechanism to produce healthy epidermal tissue growth, improving skin tone and elasticity.
This system gradually abrades epidermal cells to treat a vast range of skin problems:
Sun-damaged skin
Uneven and granular skin
Fine lines and wrinkles
Enlarged pores
Blackheads and comedones
Superficial scars
Some stretch marks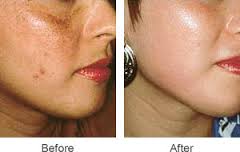 Age and skin condition determine the number of treatments required to achieve optimum effect. For most skin disorders, a minimum of five treatments is recommended. Results can be seen in both the texture and the appearance of the skin after just one session. Closely spaced treatments, combined with maintenance sessions, will result in better skin quality and may postpone the first lifting treatments for some years.